Cycle World - The New Magna - 1994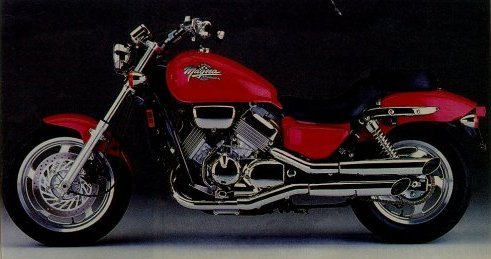 Honda's all new Magna 750 blends current engine technology with a healthy dose of traditional custom styling. The Magna's comfort level should be high, thanks to its rational ergonomic layout, wide, plush saddle and extremely smooth, V-4 engine. Expect the bike in dealerships in mid-april.
HONDA TAKES THE WRAPS OFF
ANOTHER EARLY RELEASE MODEL

Like most motorcycle manufacturers in the late '80's Honda floundered in the U.S. markets. A host of social and econominc factors contributed to the weakening of the company's Once-dominant sales position, though Honda brought some of the problems upon itself by largely turning its back on motorcycling's core enthusiast group, a destructive move that cost the company a ton of market share, credibility and profit. Since 1990, Honda has regained its composure by offering American buyers a wider selection of enthusiast-based machinery. The best- selling CBR600F2 and CBR900RR are two examples.




This year, Honda hopes to continue that trend, and maybe point it in a slightly different direction, with an early-release 1994 offering aimed directly at enthusiast buyers. This is the new-from-the-ground-up Magna 750, a performance custom designed for the type of buyer Honda attracted with its first-,second- and third generation Magnas-a buyer who wants custom styling and healthy, four-cylinder power.
Honda's last Magna, introduced in '87, sold poorly despite its excellent engine and chassis. Most blamed the slow sales on its radical, overdone styling. Then, surprisingly, used and leftover versions, caught on with buyers in the early '90s, and though Honda killed production of the bike after the '88 model year, the revitalized sales apparently convinced Honda that the performance custom concept still held promise.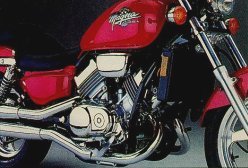 Honda sourced the Magna's motor from its VFR750F, a motorcycle with arguably one of the smoothest, satisifying-to-use engines available. Detuned for Magna duty, the 90-degree V-Four features enlarged cylinder finning, plenty of chromework, and a 4-into-4 exhaust system.


Twelve years of V-Four customs (top to bottom): Honda's first Magna appeared in 1982, and was based loosely on the V45 Sabre. Second-generation Magnas-sold in 1985 and 1986 were similarly styled, and remained hot sellers. Magna styling went radical in '87, combining elements of a dragbike with what Japanese designers thought were American hot-rod influences. The bike initially sold poorly. The latest Magna is more traditional in design.
One look at the latest Magna, and it's clear that Honda put traditional, mainstream custom styling at the top of the Magna's priority list. The new bike, happily devoid of the scoops and bazooka exhaust pipes that adorned the hot-rodded, '87-' 88 machine, is much more elegantly styled.

V-Four engines have always been a hallmark of Honda Magnas, and the new bike, which uses the smooth, powerful and well-mannered VFR750F engine, is no different. To make this compact engine appear as visually impressive as possible, designers enlarged the cylinder fins, fitted over-sized valve covers and used chromed and polished parts liberally.

Inside, the liquid-cooled, 749cc, dohc, 90-degree Vee motor underwent substantial modifications for its Magna mission, including the fitment of a five-speed transmission in place of the VFR's six-speeder, a 360-degree crank instead of the VFR's 180-degree design, 2mm-smaller carburetors, a cable-operated clutch in place of the VFR's hydraulic unit, and chain-driven camshafts instead of the VFR's geartrain layout; the last two changes done presumably to reduce costs.

The rest of the engine-bore and stroke, bucket-and-shim valve actuation and compression ratios identical to the VFR's, and while we expect peak power to be down slightly, there should be plenty of smooth, midrange power on tap.
Another obvious cost-cutting move, and a risky one, was the use of chain final drive. The Magna's chain is a durable, 0-ring design, and though it's a fact that today's drive chains are quiet, efficient and long-lasting, it will be interesting to see how custom buyers, weaned on shaft-drive machinery since the early '80s, wll react.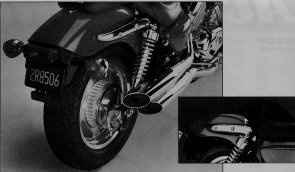 The Magna's backside features dual chromed shocks with spring-preload adjustability, while an old-tech drum rear brake handles stopping duty. Five-spoke wheel is a 15-incher, fitted with bias-ply Dunlop K555 tire. The Magna offers two-up capability, though the passenger pad pops off (inset), leaving a more radical solo look in its absence.
The Magna's chassis is straightforward in design. The frame is steel, and surrounds the engine with dual down-tubes. A conventional, non-adjustable fork and a pair of preload-adjustable shocks handle suspension duties. Braking is via a single-disc, twin-piston caliper set-up in front, while a drum is used in back.

In terms of comfort, the new Magna should deliver nicely. Rather than the traditional-and uncomfortable at speed-forward-peg, high-handlebar cruiser layout, Honda designers gave the Magna more rational ergonomics. The seat seems well-padded and comfortable, the handlebar is wide. low and well-shaped, and the footpeg position is set more rearward than, say, the Shadow 1100's pegs.


For the most part, details are well done. The 4-into-4 exhaust system is aesthetically stunning, there's plenty of chrome, and the paintwork, available in red, black or yellow. is smooth and glossy. At just under 29 inches, the Magna's saddle is relatively close to the ground, a fact that those short of inseam will find attractive. Honda's not talking price yet. but we expect the Magna to cost somewhere around six grand.
The performance-custom market isn't huge, and Honda knows it. But unlike the late '80s, it appears that Honda is back to building motorcycles that stir enthusiast passions. The Magna 750 is proof of that.