This page was downloaded from The Internet Museum in 2004 ...





... because this good story has not been available for a very long time.

BACK TO SABMAG


---
Comments from Webmaster : It's a fantastic story, everyone should have friends like Jude !!
Regards to the Maggots in Usa, from Svein in Norway.


---
Once upon a time, there was a small internet mailing list dedicated to the interests of motorcyclists who rode a very special type of motorcycle. The fellow who founded and operated that list, one Jude Federspiel, worked hard to keep it running smoothly, so the listmembers could keep their special motorcycles running smoothly too.
The list grew. After a while, a wonderful thing happened: In the course of communicating regularly through e-mail, the riders found out that they had much more than their motorcycles in common. They met for rides and fellowship, and they became friends.
This is a story about SabMag, a community of very special motorcyclists; and the power of the Internet.
One day last September Jude woke up to find that he didn't have a motorcycle in common with his friends anymore. Oh, no! A resident of Cambridge, Massachusetts (a notoriously bad place to own a vehicle) and a college student, Jude was in no position to replace his beloved Honda Sabre. It wasn't the nicest V4 out there, but it was a Sabre--one of the best motorcycles ever made--and besides, it was his only transportation.
Not long after Jude sorrowfully reported his loss to the list, a few of the crustiest, most cantankerous listmembers asked each other, privately at first, if there was anything that could be done to help Jude. All agreed that SabMag had become an important part of their lives, and giving something back to it--specifically to the person who made it happen--would be a small token of that appreciation. Thus was born the Friends of Jude (FoJ), who together pledged to replace Jude's Sabre.
Accordingly, the complete mailing list was somewhat deceitfully obtained from Jude and an appeal went out off-list to the general membership--to all except for Jude, of course. The response, to say the least, was heartwarming. Eventually, more than a quarter of all SabMag listmembers sent whatever they could afford to the Project:Get Jude a Bike! fund.
Though the funds were rolling in steadily, The Friends of Jude still had to find a suitable motorcycle. This was no small task, considering both the season (winter) and the projected cost (stretching the limits of fundraising optimism).
Then Mike Haskell made the biggest donation of all. He offered the Friends of Jude his 1982 V45 Sabre, the same year and model of Jude's missing bike, at a price considerably less than its value. In addition, he offered to deliver it. The Friends of Jude were ecstatic. The plan was about to come together!
The final obstacle was yet to be overcome: getting the bike to Jude. Tony Donisi and Carmel Charron offered to help with the final logistics of getting the conspirators, the bike, and Jude all in the same place. Though this would not seem to be much of a problem, compared with raising the funds and actually buying a motorcycle, it proved to be the most difficult hurdle of the entire project.
Why? Well, Jude--a senior at MIT--was one very busy fellow, and had apparently removed himself from any listing or directory that might disclose his address or phone number. With his final exams approaching, he politely resisted all efforts to arrange a meeting, postponing answering his e-mail and generally declining any proposals of activities that didn't further his academic work. Of course, he had no clue why these people were bothering him.
Nevertheless, on the morning of December 14 the conspirators gathered in Manchester, New Hampshire, where Jude--in an effort to get those pesky listmembers off his back--had halfheartedly consented to meet them. He didn't show up. Oh, no! Mike, with the bike in the back of a rented truck, had to be back in Maine that afternoon.
The tension was rising. Jude didn't answer his phone or his pager. With the clock ticking, a solution had to be found. Finally, with the available options diminishing, Tony made one last phone call. Jude answered! No, he didn't have time to get together today; he was about to go to work. Would he be able to take a few minutes off for a break? "Yeah, I guess so," he said.
The Friends of Jude were off to Boston minutes later. Upon arriving, they parked the truck in front of the MIT Student Center in the cold rain and lured the still-unsuspecting Jude outside. And then . . .
The rest is history. See for yourself. Hopefully, the images loaded while you were reading this.
Keep up the good work, Jude. We appreciate you.
COPYRIGHTS: graphics, Ron Erhardt; photos, Carmel Charron; page layout and text, Phil Ross. Please respect their intellectual property.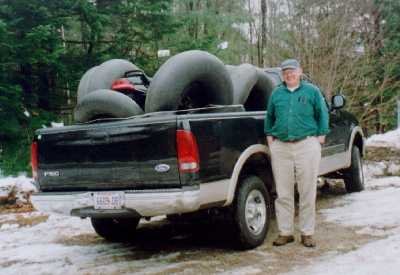 FoJ#0001: Mike Haskell, "SabMag Santa," demonstrates
how a cycle can be shipped without any tie-downs at all.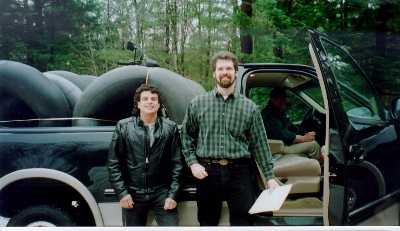 Jude has finally been located. Leaving for Boston!
Tony Donisi, Phil Ross.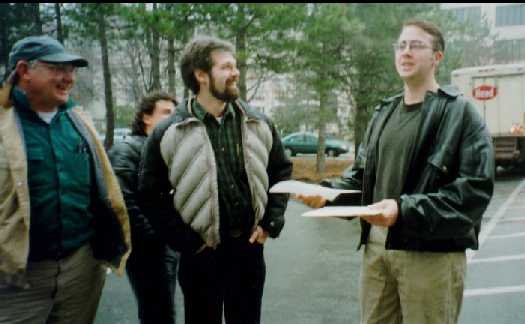 The Big Moment!
Jude Federspiel, about 0.3 seconds after he became the owner of
a new Sabre, in total disbelief. Can you see his hair standing on end?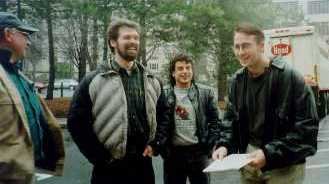 "You guys are INSANE!"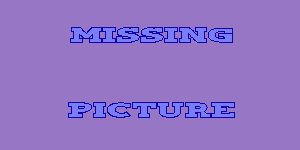 Jude gives everyone a hug while Mike moves
the truck out of the way of an angry teamster.
Boston drivers are so rude.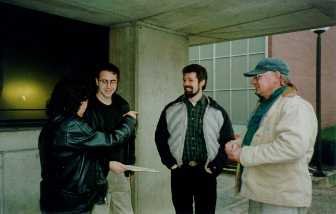 We duck out of the rain. The conditions are
explained: Jude has to come to every SabMag
East ride-in, in perpetuity.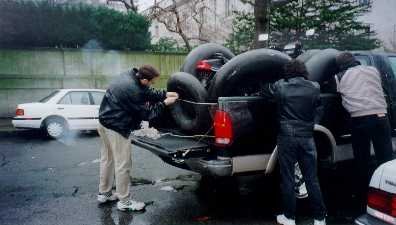 Removing the oversized bubble-wrap.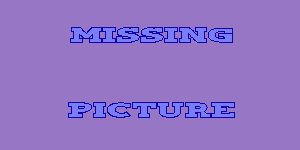 It's starting to sink in. Look at that dazed smile!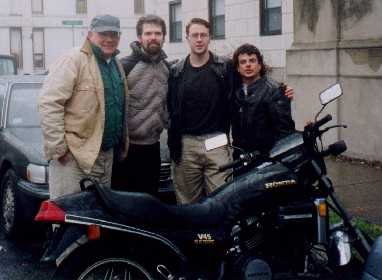 The formal portrait. Tony wonders, "Is there
anyone else in this group under six feet tall?"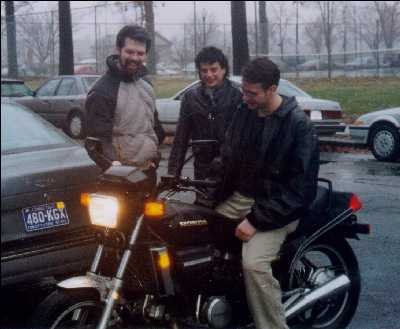 Jude's new Sabre comes to life, singing that plaintive
V4 tune. "Wow, the gauges work on this one!" he says.
---
...And Jude rides off into the mist.
If you're a Magna or Sabre owner and you want to be part of this great list, write to SabMag, or to Jude himself--he's still the listowner. Be sure to mention you saw him here!
---
Other SabMag pages:

Ron Erhardt's Sabre/Magna Gallery
Mike Stewart's SabMag FAQ page
Robyn Lander's V4 files
---
Last updated February 17, 1997 by Phil Ross